In 1954, the City of Miami Police Department began to conduct research on the utilization of police work dogs within other agencies around the country. Former Police Chief Walter E. Hadley assigned the task to Captain Donald March who, after conducting his research, provided his report to the chief recommending the Canine Unit's establishment. The unit was then officially established in 1960. Sergeant J. "Pappy" Quinn was sent to Canine Training School in St. Louis, Missouri, and subsequently became MPD's first Canine Unit Trainer. Sergeant Quinn held the first Miami Police Canine team schools in September 1960 and January 1961, ensuring the unit was staffed with properly trained personnel.
Over the years the training program has expanded to encompass new training methods and ideas gathered from other department's training programs, seminars, and publications. Our training program and canine utilizations have been instrumental in developing and establishing canine programs in police departments around the nation.
The Canine Unit is an element of the Field Operations Division's Specialized Operations Section. The Canine Unit provides their highly specialized canine teams to protect the citizens and visitors of Miami 24 hours-a-day, 7 days-a-week. The canine teams specialize in interior and exterior searches, evidence searches, narcotics and explosive searches and detection, and any situations that require physical security capabilities which will increase the safety of officers. All the dogs are initially trained for basic field utility work.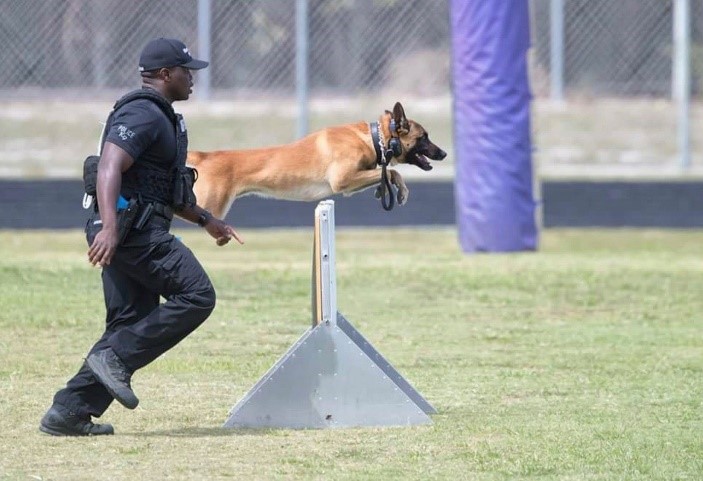 Then depending upon the dog's temperament, he is either cross-trained in narcotic or explosive detection. The dogs live with their handlers and ride along with the handlers as they perform their police duties.



The Miami Police Department K-9 training staff provides full time training for the officers and provides basic and advanced training for other law enforcement agencies throughout South Florida. The Miami Police Department also assists other agencies in establishing and conducting a canine training program.