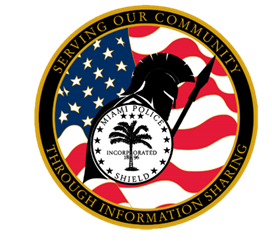 Miami Police Shield has been established to educate, train, and forge partnerships with the community and is the first and only Shield in the State of Florida.
Miami Police Shield is committed to serving our community through information sharing and multi-agency partnerships to counter terrorism, homegrown violent extremists, and crime in the City of Miami.
The Miami Police Department is fully committed in making the City of Miami the safest city in the United States. As a police department we pride ourselves with providing first-class police services to all of our residents and visitors. In our continued commitment to make Miami safer, we have created the Miami Police Shield Detail.
Shield is NOW OFFERING the following FREE training(s) to the community:
Active Shooter
Terrorism Awareness
Facility Threat Assessments
Stop The Bleed
CLICK HERE To register for any Shield Training Courses.
To Report Suspicious Activity Contact the Miami Police Shield Unit:


The mission of the Bomb Squad is to RSP (render safe procedures) improvised explosive devices (I.E.D.); suspected I.E.D.s; hoax devices; explosives; found Military Explosive Ordnance; to conduct post blast investigations of bombings; criminal explosions; incendiaries (firebombing); to impound found commercial explosives; found pyrotechnics (fireworks) and any other explosives. The Bomb Squad provides bomb and explosive disposal services throughout the City of Miami. Bomb and explosive disposal services and/or advice are provided outside of the city upon expressed permission of the Chief of Police or his designee (Mutual Aid Pact).