Special Threat Response Unit
The Special Threat and Response Unit is an element within the Field Operation Division's Specialized Operations Section. The unit is comprised of two elements - the Special Weapons and Tactics (SWAT) Team and the Crisis Negotiations Team (CNT).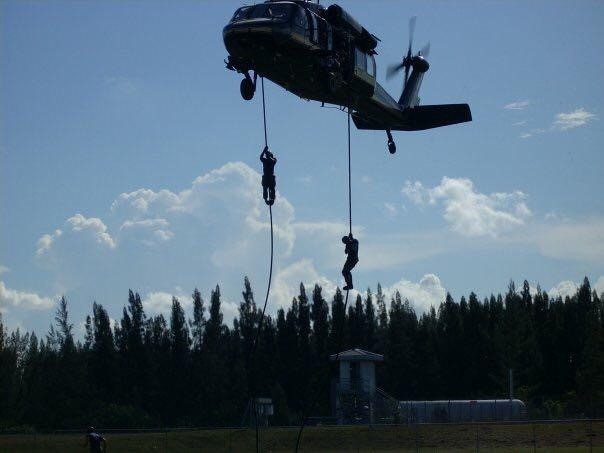 SWAT Detail

The Miami Police Department established the SWAT Team in early 1970's as a response to an increase in "special threat" situations in Miami. Averaging many operations a year, the members of this specially trained team are faced with varied, multi-faceted missions with the goal and purpose of preserving life. They respond to extremely dangerous situations which include but are not limited to: responding to mass-casualty incidents, barricaded subjects, sniper operations, high-risk warrant service, supporting Crisis Negotiators with suicidal subjects, hostage taking, as well as providing dignitary protection when called on to assist.
Selection for the SWAT Team is a difficult process. All applicants must be sworn Miami Police Department officers. Initial "tryouts" are physically and mentally demanding. Applicants are initially screened to ensure their employee profile illustrates them as self-disciplined and responsible officers. Then they are physically screened to ensure that they are agile, physically fit, and capable of accomplishing multiple tasks under extremely stressful conditions. Those that are selected are then sent to the Miami Police Department's prestigious SWAT School.
At the 3-week training program, trainees complete numerous hours of physical training and participate in skill-building exercises daily, all of which are provided by SWAT instructors. The training curriculum consists of sessions on rappelling, fast-roping, room entry procedures, building searches, and expertise in the specialized tactical weapons utilized by the team. Prior to completion, all students are subjected to physical and written exams which must be completed for graduation.
At SWAT school, the Miami Police Department SWAT Team professionals have trained officers from numerous domestic and international law enforcement agencies. In addition, and at the request of the United States Department of State, SWAT Team officers have also traveled to other nations to provide this SWAT training to other law enforcement agencies.
The training and learning process does not end with graduation from SWAT School. As an active member of the SWAT Team, the new SWAT officers continue to train and further enhance their capabilities and expertise. To remain active on the team, officers must qualify regularly in weapons and physical proficiency.
Members of the SWAT Team are assigned to two sub-units - Sniper Team and the Waterborne Tactics Team. The Sniper Team officers specialize in long range surveillance as well as long range, precision shooting skills. The Waterborne Tactics Team members train extensively for the SWAT-related operations in and around Miami's countless waterways.