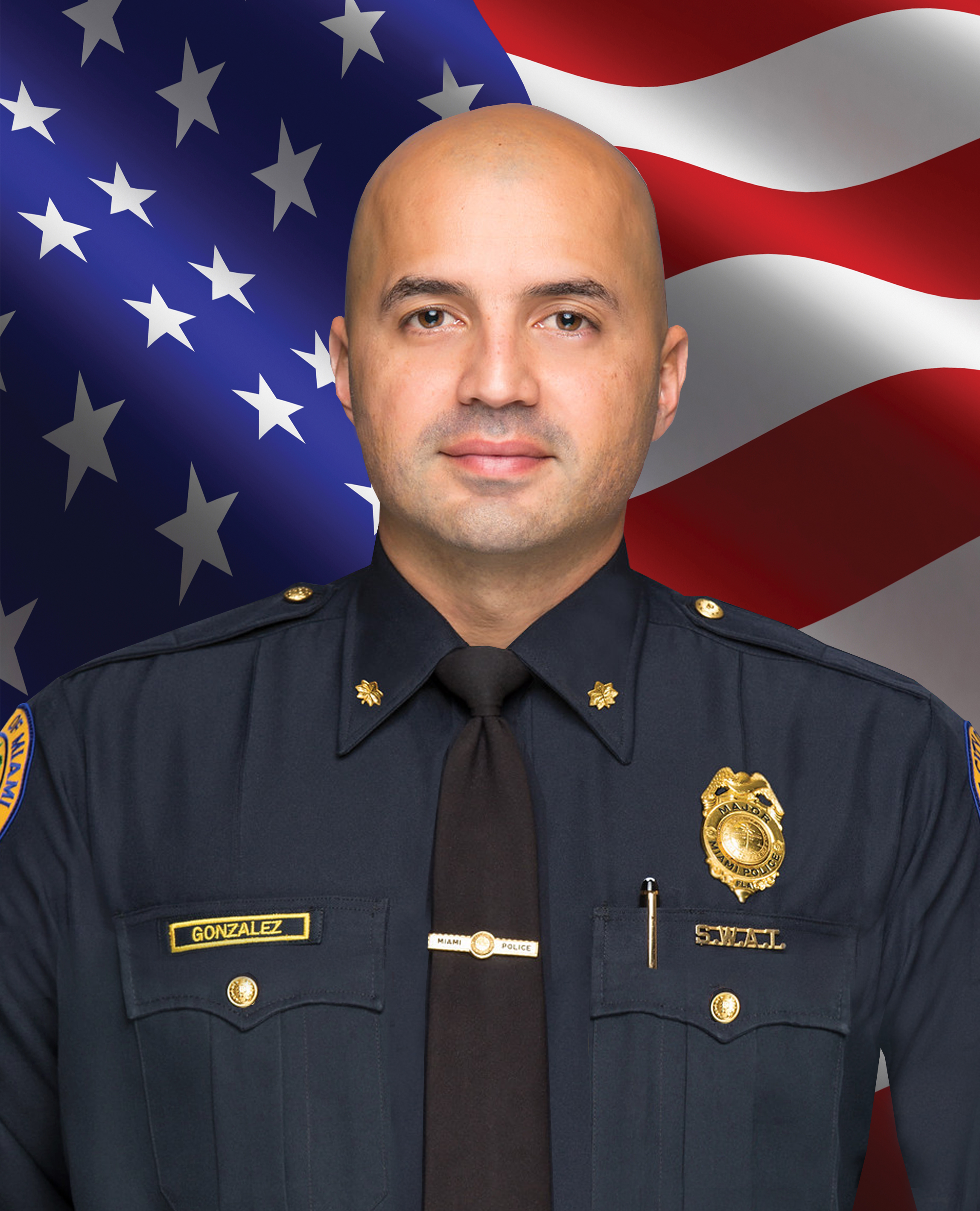 Major Eric Gonzalez
Training
The Training & Personnel Development Section, Miami Police Training Center, Chief Clarence Dickson Police College, and the International Policing Institute made significant accomplishments in 2020. The following are some of the achievements and accomplishments:

On March 23, 2021, the Miami Police Academy was renamed in honor of Chief Clarence Dickson for his contribution to law enforcement, community engagement, and diversity in policing.

The Training Section conducted several courses through 2020 aimed at improving our officers' tactics and leadership. Police and Fire Department personnel received several First-Responder Integrated Tactical Training (FITT) courses, and we also invited numerous regional partners. The Training Section executed Diversity and Implicit Bias training for executive, sworn, and civilian personnel. Our civilian staff also had an opportunity to participate in the Significance of Civilian Personnel in Public Safety course to learn the dynamics of working in the law enforcement sector. The following are some of the other courses our sworn and civilian personnel had to opportunity to learn from ALERRT 1 (Train-the-trainer), Chemical Aerosol Projector Instructor, Florida General Instructor Techniques, Fundamental Principles of Force Science, Breath Test Operator, FARO Scanner (CSI), TomManikin Simulator Training, Undercover Narcotics, and Intentional Leadership: Leading with a Purpose.

During the mobilization for Super Bowl events in the City of Miami, several Training Section members were assigned to the City of Miami's Emergency Operations Center (EOC). The police EOC staff were assigned to handle any simple or complex event during the Super Bowl period.
On January 28, 2020, the team assigned to the EOC received its most significant challenge. The EOC received information that the JW Marriot had on-premises a suspicious package, and moments later, a building in the Brickell NET area had collapsed. Fearing the possibility of a terrorist attack, the EOC officers' team immediately established primary objectives and priorities for the incident and synchronized first-responder responses. The staff worked on the development of mutually agreed-upon incident objectives and an approved response strategy, the communication and coordination of internal and external resources to the crisis sites and coordination with Miami Dade County Officers responding to affected county structures, and the incorporation of information into WebEOC and as the liaison for fire and police communication of tasks.

The EOC minutes later received information the event was caused by a 7.7 magnitude earthquake that occurred north of Jamaica's island. The remnants of the shock caused 15 different buildings in the City of Miami jurisdiction to experience tremors. The Training EOC team shifted its response strategy, and along with the City of Miami Department of Fire Rescue, ensured that the buildings were safe. The EOC team monitored police responses, traffic congestion, and police information dissemination to Super Bowl police entities. All affected facilities were assessed and inspected with exceptional efficiency because of the swift coordination of all first-responder resources.

The COVID-19 pandemic also created an opportunity for the Training and Personnel Development Section to develop policy and implement safety protocols. The training personnel researched and authored policy for COVID-19 employee testing and the procedures for station health management. The Academy Unit staff created a video disseminated to all police employees to assist in the new methods that all employees would need to follow before entering the station.
Additionally, the training staff formulated arrest policies to ensure officers were safe during COVID-19 suspected persons' apprehension.

During July 2020, the Skills Development Detail embarked on transitioning the department's newly acquired Glock 17 9mm platform. The detail worked diligently to achieve several arduous assignments related to the proper selection, training, and personnel qualification. The Skills Development Detail began the Glock 17 transition task by test-firing and prepping over (100) firearms. The detail ensured a flawless function and accuracy for each weapon, and the weapons' alignment of the hit pattern with the line of sight was consistent. The team's goal to have all weapons operate reliably without compromises was achieved at a very high level, including assessing the most reliable training ammunition. The detail constructed lessons to convert the marksmanship fundamentals used in the Glock .40 caliber weapon system into the new platform.

Additionally, the detail created shooting drills for sworn and staff members to evaluate their performance. A city-wide firearm transition also required extensive administrative work. The detail worked closely with the Quartermaster Unit to receive over (1000) firearms to be issued to personnel. The detail successfully transitioned and qualified (865) officers to Glock 17/17MOS/43 firearms, as well as provided remedial firearms training to (9) officers, and conducted mandatory CJSTC qualification to (21) officers. The detail was also tasked with categorizing all the Glock .40 caliber and confirming vendor delivery's proper packaging.

In October 2020, the Training and Personnel Development Section's administrative staff prepared the 2019/2020 Criminal Justice and Training Commission annual audit. The staff prepared, organized, and assisted in the administrative documentation of four Police Academy Class classes and over twenty Region XIV specialized courses. Additionally, over 30 accounting records were reviewed, and numerous contractual agreements. The staff ensured that over 50 laws, rules, and budget provisions were compliant with Rule 11B-18.010 of the Florida Administrative Code. Lastly, the staff ensured that 33 facility and equipment rules complied. On October 21, 2020, an FDLE training center inspector conducted a three-day audit of 19 random courses/PAC academies and a facility inspection (Defensive Tactics room, four classrooms, Firearms Range First Aid storage room). The audit revealed no errors or violations of policy. The FDLE training center inspector commended the administrative staff and noted the preparation and management of training records from the Miami Police Department were the best in the South Florida training region.

Training Administration Unit

How many officers were processed through mandatory classes for the Florida Department of Law Enforcement?
Processed 166 officers for Florida Department of Law Enforcement mandatory training.


Were there any other mandatory trainings conducted during 2020 and if so, how many officers did you schedule 1,087.



You conducted 6 for 102 number of police officers for School of Professional Development training.


How many Region XIV career development courses or sessions did you conduct? What are these for? (Explain why officers have to take these). Provide total number of officers who attended. Provide total number of officers who attended. Provide number of reimbursable funds generated as a result of these classes.
The Miami Police Training Center conducted 11 Region XIV courses. Career and Development Training courses consists of advanced and/or specialized training courses designed to enhance an officer's knowledge, skills, and abilities for a better job performance. Total number of officers who attended is 102. The reimbursable funds totaled $34,882.46.
Miami Police Academy Unit
How many Police Academy Class and Auxiliary Police Academy Class were conducted during 2020? State the numbers.
The Miami Police Academy conducted 3 Police Academy Classes Academy Class in 2020. PAC 134, 135, and 136.


How many police recruits were enrolled (total) and how many graduated?
Police Recruits Enrolled: 54; Graduated: 36
PAC #136 will graduate April 2021.


How many of these recruits were employed by the Miami Police Department?
The Miami Police Academy graduated 28 Miami Police Department recruits.


How many of these recruits were sponsored and employed by other agencies and list the agencies.
25 Recruits were sponsored and employed by the following agencies:



| | |
| --- | --- |
| Coral Gables PD | 14 |
| Doral PD | 1 |
| FIU PD | 1 |
| Hallandale PD | 2 |
| Miami Springs PD | 2 |
| North Miami PD | 5 |



How many of these recruits were self-sponsored?
There was one (1) recruits who were self-sponsored.


List the total amount of tuition revenues generated by year's end?
Tuition revenues collected over $167,933.75 from Police Academy Class (Physical Agility test, Fingerprinting, Tuition), International Policing Institute (internship, dormitory rooms), HR218, Classroom/Auditorium rental, Range Rental, and Department of Children and Families.
How many months of training does each PAC involve?
Full-time Police Academy Class is a 6 1/2-months schedule.


Does our Training Unit have a ranking in the nation?
Not Applicable.
International Policing Institute
How many international delegates visited and from what countries?
We hosted one (1) International delegates from Germany.



What types of trainings did we provide to the delegates?
The International Delegate interned with the Miami Police Academy Classes (observing PT sessions and drill formations) and with the Training and Development Section Survival Team (active shooter drill scenarios and reality-based training sessions). The Delegate was assigned to Patrol Units for ride along, met with SIS/Gang Intelligence and K-9 Unit with the approval of Unit Commanders, the Delegate was able to observe detectives from Traffic Homicide, Homicide, Special Victims, Assaults and Burglary Units as they worked active cases. The Crime Scene Investigative Unit was also a part of the internship process where the Delegate was taken to the forensics lab and to the Coroners/Medical Examiner's Office as she was shown the evidence collection process and procedures.



Did we have any internship? Please and explain.
Deborah Thomas, a Police Officer from the German National Police- Saxony, Germany, completed a three-week IPI Internship from February 10-29, 2020



What did you do in 2020 to generate more funds?
Due to the COVID-19 Pandemic all activities for the IPI were suspended in order to adhere to State guidelines and limitations for international travels.
Total funds generated in 2020 through the IPI: $900.00
Training and Personnel Development Section Goals for 2021

In 2021, the Training & Personnel Development Section has set several goals and outlined expectations for civilian and sworn personnel. The Training & Personnel Development Section has several courses scheduled to improve our communication skills and emotional intelligence. The training section will host a stress management course and emotional survival for law enforcement personnel seminar. The section will host a community policing course, verbal de-escalation, and leading without rank instructional workshop to continue to improve community relations.

Family reunification preparedness will be a priority in 2021. The section has planned a summer Multi-Casualty Incident (MCI) training exercise with the Fire Department and emphasize family and victim reunification aspects. Officers will also receive a Solo Officer Rapid Deployment Course geared towards providing the solo officer (off-duty/plainclothes /uniform) with the knowledge, physical skills, and mindset to isolate, distract, or neutralize an armed threat like an active shooter. The training section has set a goal to train an additional 250 officers and 100 firefighters in First-Responder Integrated Training in 2021.

In 2021, the new annual training curriculum will be established. Some of the training goals will include Felony Stop training, enhanced threat assessment analysis, Contact and Cover principles, Domestic Violence tactics and procedures, and state-mandatory training. Moreover, officers will be introduced to Integrating Communications, Assessment, and Tactics (ICAT) training. ICAT principles instruct police officers in de-escalation tactics and critical thinking skills to manage potentially volatile police-citizen encounters, encouraging the combination of crisis recognition and intervention, active listening skills, and fundamental tactics in police responses. This training is designed for patrol officers responding to circumstances involving persons in crisis due to mental health issues, drug use, life-stress, or intellectual/developmental disabilities. The training section has set the goal to complete all annual mandatory training by November 2021.

The Academy Unit will graduate PAC 136 on April 16, 2021. The Academy Unit has implemented an interleaving form of instruction to assist in long-term retention and training. Academy staff is also set to introduce a new Emotional Survival curriculum for all recruits during post-academy instruction. The Academy Unit plans to start (2) Academy classes in 2021 and has set a goal to training (30) recruits.

The Training Section will begin incorporating procedures to transform all training and employee files into a digital format. The In-service civilian staff has projected a timeline with objectives to complete 50% of nearly 500,000 documents into SharePoint accessible files. The training section has established a completion timeline of all academy and in-service digital file transfer by January 2022.

In 2021, the Training & Personnel Development Section and the Property Unit will begin issuing additional Patrol rifles. The training section has created a new re-qualification curriculum that augments previous training. Moreover, a new remedial handgun course has been proposed to assist officers that are below standards. The new remedial handgun course will focus on presenting the weapon, holstering and loading, muscle relaxation, aspects of a grip, elements of accuracy, common aiming errors, trigger control, follow-through, and psychological issues related to poor shooting practices. The training section has set a goal of having less than 2% failure in 2021 Glock qualification.