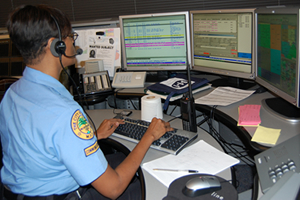 Computer Aided Dispatch
The Computer Aided Dispatch Unit is an element of the Administration Division's Communications Section. The highly trained specialists that staff this Unit are the first voice that a person hears when they are confronted with an emergency situation and dial 911 for help. The calm, comforting, and composed operator responding to the 911 emergency call is responsible for immediately establishing several vital aspects of the situation, including the location and the critical nature of the crisis. Based on the initial conversation, the emergency call-taker must make several time-sensitive decisions which impact critically on the internal routing of the call, and the safety of the caller, as well as the mission and safety of the police officers eventually dispatched in response to the call.

Having established the critical information regarding the emergency, the call-taker coordinates closely with the dispatch operator located in the same communications operations center. This coordination process is conducted in real-time via a computer terminal with a telephone capability to pass additional information as the situation develops.

Police patrol units are alerted to the emergency situation and dispatched to the scene by the communications operators specifically trained for this vital mission. These operators are assigned responsibility for a particular geographic area of the city and are prepared to dispatch patrol units to emergencies in their respective areas. Utilizing radio communications and computer connectivity, these operators keep the responding patrol units continuously informed as the crisis evolves, from the beginning to the resolution of the situation.

Handling a daily average of 1650 emergency 911 calls, the finely-tuned synergistic operations of the Computer Aided Dispatch Unit, ensure that Miami's police officers are alerted to emergency situations in a timely and efficient manner. Citizens and visitors, confronted with a crisis, can be assured that the Miami Police Department will respond and provide the appropriate level of assistance to address the situation.